3-13-2020
Statement on COVID-19 and FRHS operations

The Fayette Regional Humane Society (FRHS) is committed to the health of our community, our employees, and the animals in our care. As the only animal welfare organization in Fayette and Ross Counties investigating animal cruelty, we cannot cease operations.
The animals need us, and there are too many lives depending on us. We will continue to investigate animal cruelty and will continue to focus on animal adoptions to make room for more animals in need. At this time, all of our programs and services will continue to be provided, including our most utilized program during spring and summer, 'Trap, Neuter and Return.'
Please note: There is no current evidence that pets can contract or transmit the virus. We ask that you also include care for pets in your emergency preparedness plan.
The FRHS maintains a high-level cleanliness and sanitation, and are increasing our disinfection protocol, as well as encouraging all guests to wash their hands before entering our facility at the washing station provided. We ask that any ill staff, visitors and volunteers please remain home.
At the recommendation of the Ohio Department of Public Health and Governor DeWine regarding the ban on large gatherings, we will be postponing the Fur Ball until September 19th, 2020.
To maintain social distancing in our facility, we ask you to please only visit us to adopt or if you are participating in one of our programs. Otherwise, please contact us by phone at: 740.335.8126.
We will continue to follow this ever-changing situation and will reassess our policies as needed.
 ###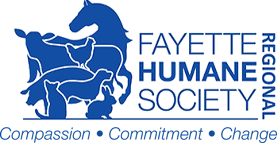 3-6-2020
WCH Woman pleaded guilty to neglecting pig
WASHINGTON C.H, OH- A Fayette Regional Humane Society (FRHS) humane agent responded to a Broadway Street home on December 23, regarding a potbellied pig without shelter. When the humane agent arrived, he found a fourmonth-old potbellied pig confined under a playground set without access to shelter or water. When the owner, Wynonna Lacey did not comply with a written warning notification, the pig, named Wilbur was surrendered into the custody of FRHS.
Wynonna Lacey, 24, Washington C.H., was sentenced in Washington Municipal Court last Thursday morning during a pretrial hearing. Lacey pleaded guilty to cruelty to animals, a second-degree misdemeanor charge. She was sentenced to not own any animals for a period of one year, 90-day suspended jail, placed on probation for one year and fined $315 in fines and court costs.
"It is even more critical that pigs have access to adequate shelter for warmth due to their species and body type." said Brad Adams, chief humane agent "I think sometimes people treat other animals differently because they are not the more companion animal such as a dog or cat, but we are here to protect and ensure that all animals receive humane treatment.
The FRHS staff fell in love with Wilbur during his stay at their animal care and adoption center.
"He roamed the animal care and adoption center just like a dog or cat, and he acted just like a dog, too." said Adams "He was very sweet and silly. Wilbur would play with the dogs and had his own toys, too. We sometimes caught Wilbur picking up his blanket by mouth and covering himself up to take a nap, or trying to obtain his own snacks at his own free will"
Wilbur found a new home after his one-month-stay at the humane society. A wonderful family made a four-hour trip from a town in Pennsylvania to adopt him.
The Fayette Regional Humane Society is a non-profit (501(c)(3), volunteer organization. They receive less than 2% of their support from governmental organizations and therefore must rely on donations, grants and fundraising to carry out their mission. The Humane Society is the only organization in Fayette County able to respond to calls about abused, neglected and injured domestic animals, 24 hours per day, seven days per week. To learn more about the Fayette Regional Humane Society, please visit their website at www.fayettehumanesociety.com
# # #